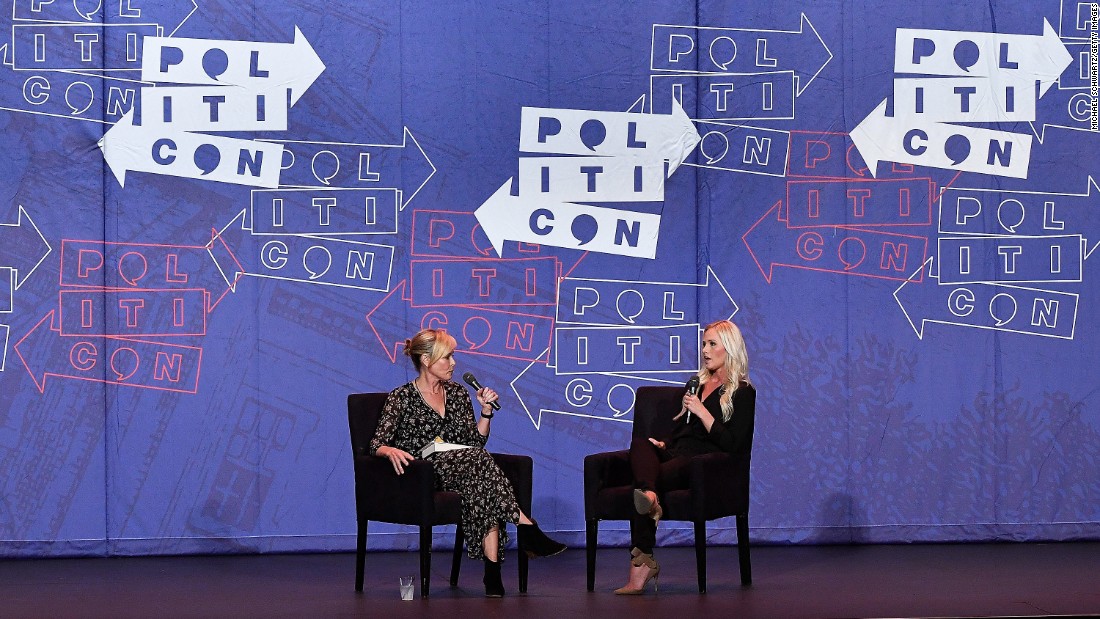 Pasadena (CNN)Politicon has lived up to its reputation as the "Comic-Con of politics."
The third annual event, held in Pasadena, California, drew in thousands of political commentators, journalists, celebrities and politics nerds from across the US.
Here are five of the most interesting things we spotted at the two-day conference.
1. Tomi Lahren mania
Lahren knows how to stir up a crowd.
The conservative firebrand, who made a name for herself speaking sharp and fast about conservative politics, told an audience at Politicon that she wants to repeal and replace Obamacare — but then casually added later she's still on her parents' health care plan.
"Luckily I'm 24 and I'm still on my parents' health care plan," she told comedian Chelsea Handler, who conducted the Q&A.
Some people in the crowd booed, seeing it as a contradiction because former President Barack Obama's signature health care law and frequent Lahren target — the Affordable Care Act — is the reason why she can still be on her parents' health insurance plan. The ability to stay on your parents' plan until you turn 26 is a popular feature of Obamacare.
But Lahren has as many fans as she does haters.
Devin Dudley, 18, trekked from Michigan sporting a T-shirt with a collage of Lahren's face.
"I got if off a website because I heard she was going to be here," he told CNN. "I was looking for different types of merch, and I found this and said 'I have to have this.' I like that she's very outgoing, she doesn't hold back. She loves to talk about politics, just like I do. I might not agree with her about everything, but we do agree a lot."
2. Creative outfits
Alex Ishkov, Brandon Firla and Richard Kenyon (above) came dressed as George Washington, Abe Lincoln and founding father Alexander Hamilton.
But they weren't the only people at Politicon who got creative with their attire.
"Make America glam again," he said while posing in front of a giant American flag during the event.
3. Fun activities on the con floor
Anthony Scaramucci, the newly appointed White House communications director, bailed on Politicon after The New Yorker's Ryan Lizza published a piece last week detailing a phone conversation he had with President Donald Trump's new hire.
But just because he wasn't there doesn't mean he was forgotten. Politicon had a photobooth set up where attendees could get GIFs of themselves in front of a White House-esque podium. Cut-outs of 'the Mooch,' now ex-White House press secretary Sean Spicer and his successor, Sarah Huckabee Sanders, were available for people to pose with.
"Politicon reached out to us they wanted to be be part of it," Kat Coyle, who helped design the hat for Pussyhat Project co-founders Krista Suh and Jayna Zweiman, told CNN.
4. Politically inspired art and merch
Organizations handed out everything from pins to comics, showcasing their various politically inspired products.
One company, The Tea Book, put up a large poster showcasing the cover art for its latest tea-storage devices, which are made to look like books on the oustide: "poli-tea-cal," and "ImPeachMint."
"We create teas that tell stories. Every tea has a character that talks about different issues," Noah Bleich, who owns the Tea Book, told CNN.
5. Lots and lots of Trump swag or impersonations
Many attendees sported the Trump campaign's signature red "Make America Great Again" hats. Others took their passion for the President further by dressing up as him — and a few wouldn't break character.
Even outside the event on Saturday, a person dressed as Trump danced on the street.
Some of the cars that drove by honked.
Read more: http://www.cnn.com/2017/07/30/politics/politicon-five-most-interesting-things/index.html